Husky Fex21-S Overview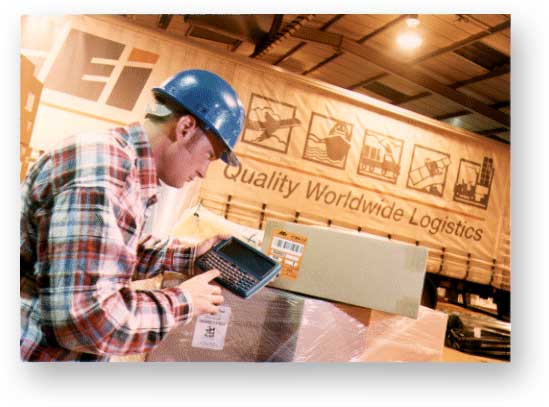 The Husky Fex21-S fills a critical gap for many barcode applications by combining three features into a single device: Advanced computing power based on the Microsoft Windows CE operating system, ultra-rugged protection across a wide range of environmental conditions, and the convenience of a fully integrated laser barcode scanner. The result is the world's first rugged handheld PC scanner designed for a broad spectrum of mobile applications.
The Husky Fex21-S offers excellent scanning performance with a working range of up to 30", and offers "Adaptive Logic" technology. This technology maximizes performance on damaged or poorly printed barcodes. It also enhances scanning distances when lighting conditions exceed 10,000 ft.-candles, such as when scanning barcodes in direct sunlight. This provides for fast and reliable barcode scanning even when working in outdoor environments.
Instantly copy barcode data directly into any Windows CE program, such as Pocket Word, Excel, or Access, using the FexScan software from Handheld Systems. It's 15 times faster and up to 10,000 times more accurate than manual data entry. Simply scan the barcode and watch as your spreadsheet or database is updated with the information from the tag. This is a great solution for inventory management, field inspections, fleet management, route delivery, and many other mobile applications.
Features
Optional FexScan software reads barcode data directly into any Windows CE program including Pocket Excel and Access
Automatically recognizes all popular barcode formats including UPC, Code 39, Codabar, EAN, and Interleaved 2 of 5
High-intensity red aim beam
Reads barcodes up to 30" away and in direct sunlight
Scans barcodes 39 times per second
Microsoft Pocket Office suite including Word, Excel, PowerPoint, Access, Internet Explorer, and Outlook.
Pentium class 129MHz MIPS RISC processor
32MB RAM
Splash-proof seals and shock resistant case
6.5" 1/2 VGA screen offers enhanced visibility across high and low light environments, even direct sunlight
Resistive touch screen allows use of passive pen or finger
Two Type II or one Type III user accessible PC Card slots
Internal 33.6kbps Soft Modem
Supports one Compact Flash card
IrDA infrared port for cableless communication to a printer or to another Husky Fex21
129MHz unit operates from LiION rechargeable battery pack
Can be loaded into its dedicated communications and charging dock in seconds, with no cable connections
Each machine includes a battery charger, charger adapter, rechargeable battery pack, communications cable, modem cable, pen, backstrap, ActiveSync software, user leaflet, and an integrated laser scanner